Easy Raspberry Peach Baked French Toast Recipe
Whip up this raspberry peach baked French toast recipe the night before, so all you have to do is toss it in the oven to bake in the morning. An overnight French toast bake that is filled with fruit and tasty French bread.
Ever since I made our Cinnamon Roll French Toast Casserole I've been dying to do an overnight French Toast Bake Recipe with fruit. I love these with fruit. I decided that I wanted one I could put in the oven on Christmas morning while we unwrapped gifts.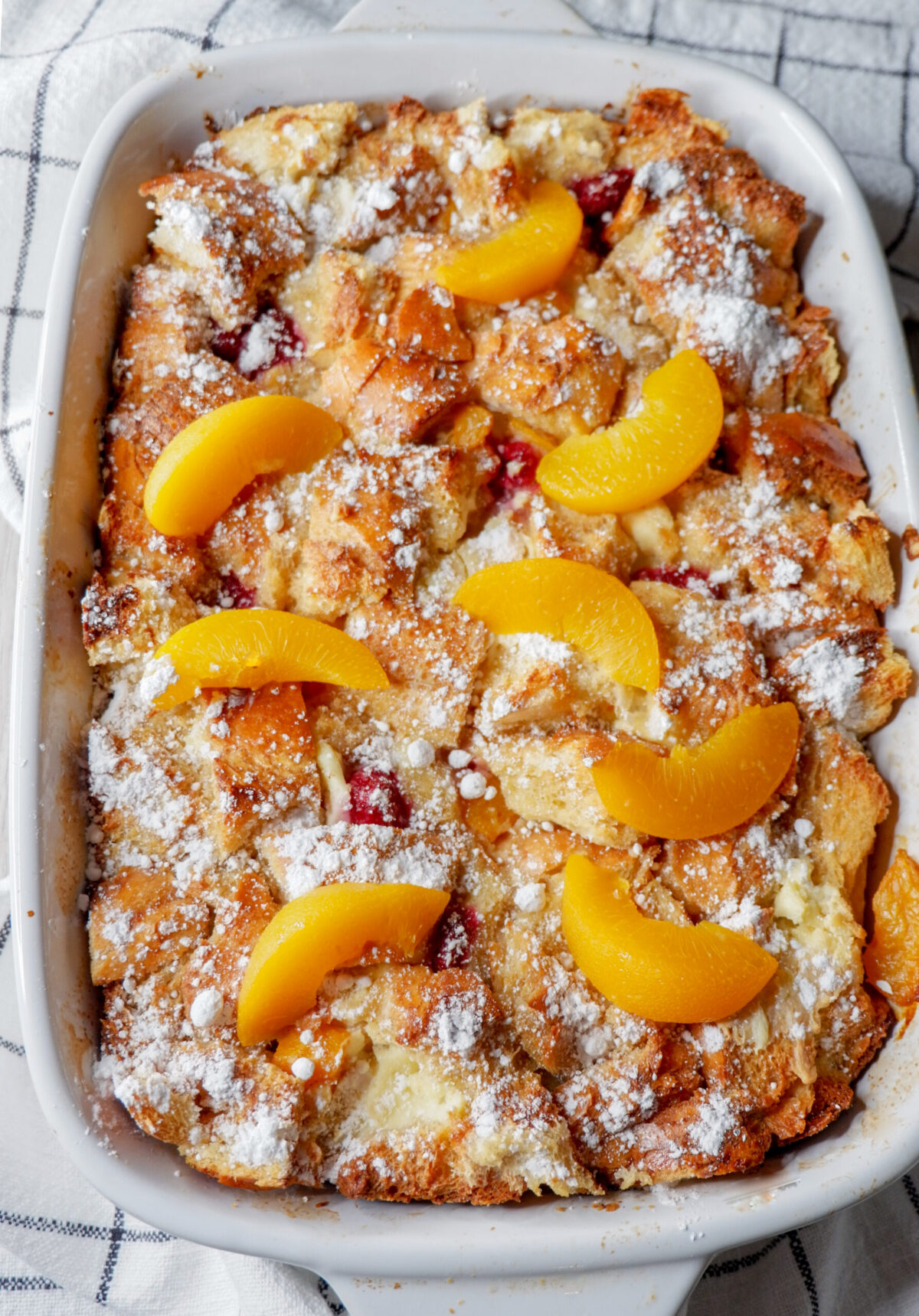 That's just what I did I came up with this yummy and easy overnight raspberry, peach, and cream cheese French toast bake. I have seen a lot of raspberry and blueberry versions but wanted to have something besides the berries. So I looked in the fridge and cupboards and found a jar of sliced peaches.
We all love peaches, especially hubby who is in the one who bought the jar of pieces so I thought perfect let's give this a go and I'm so glad I did. We loved it!
How to make baked French toast recipe
It was great to just take the casserole dish out of the fridge on Christmas morning, turn the oven on and while we opened gifts our delicious raspberry, peach baked French toast recipe was baking. Oh did the kitchen ever smell divine? I used a 9×12 casserole dish so it made quite a bit for just the three of us. Let's get onto this recipe, shall we?!
Yield: 9-12
Easy Raspberry Peach Baked French Toast Recipe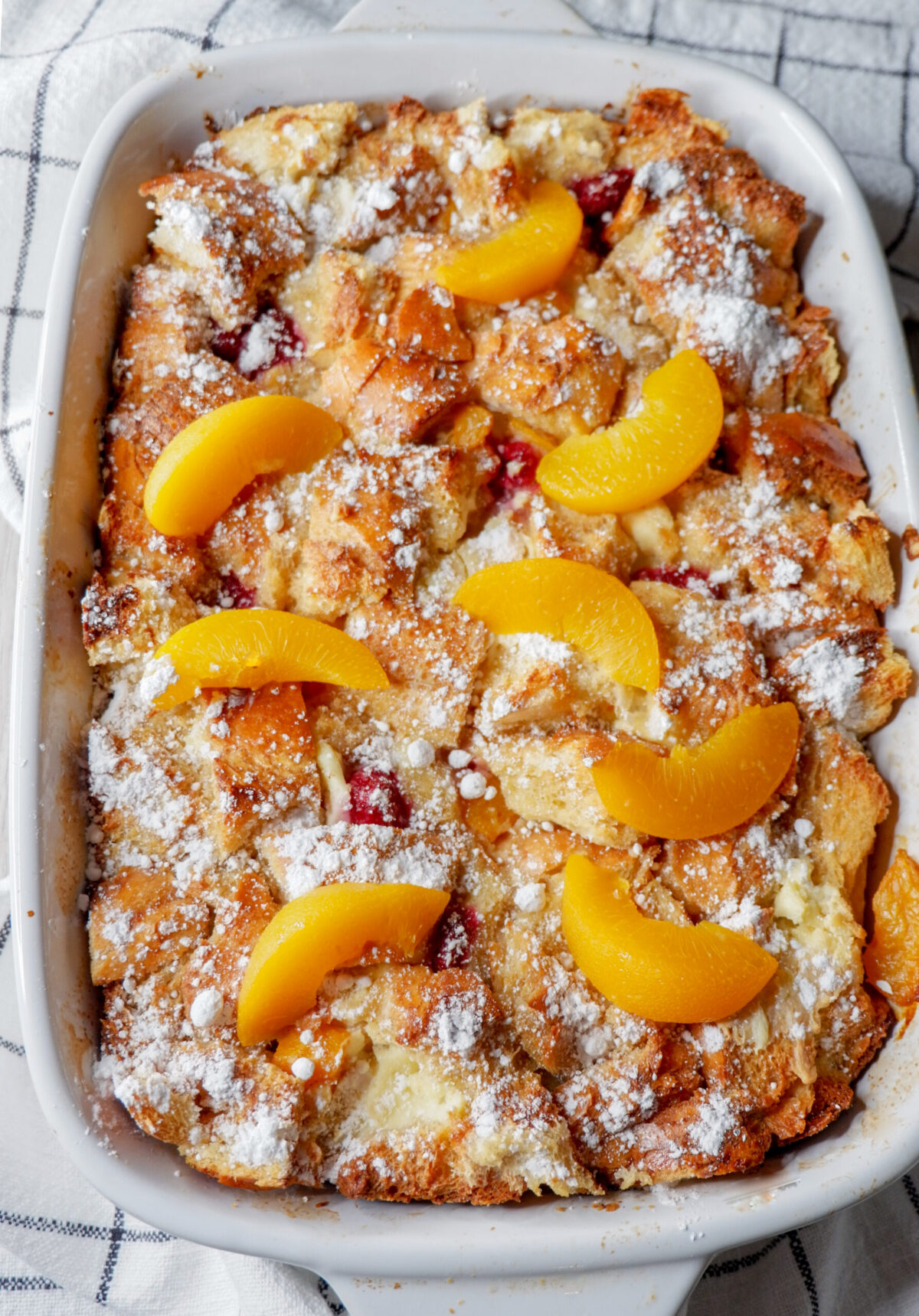 Dress up your french toast with this raspberry peach baked french toast recipe. A make-ahead dish that you can toss in the oven come morning, for a sweet breakfast.
Total Time
9 hours
15 minutes
Ingredients
1 large loaf of crusty French bread (you can also use other crusty artisan bread ie: challah, Italian etc..) Best if dried out. I left the loaf out for two days to dry.
2 cups of sliced peaches (cut each slice in half or thirds up to you)
1 container raspberries 6oz
1 block cream cheese 8oz, cut into cubes
10 eggs
2 cups heavy cream
3/4 tsp cinnamon
1/2 cup sugar
2 tbsp maple syrup
1 tsp vanilla extract (optional)
Powdered sugar
Instructions
Spray a 9"x12" baking dish with non-stick cooking spray, set aside.
Cut your French loaf into chunks/cubes about 1-2 inch squares.
Add half of your French bread to the bottom of pan and spread raspberries and peaches (save some for the topping) and the cubed cream cheese.
With the remaining French bread press down on the top layer to flatten.
In a large bowl mix eggs, cream, cinnamon, vanilla extract (if using), maple syrup and sugar and pour so that it covers most of the top layer. Some pieces sticking out is fine and but it shouldn't be a pool of liquid. The bread will soak in the mixture (hence why a crusty, dried out bread works so well)
Cover with tin foil, press down again on the top layer.
Refrigerate overnight.
Remove from the fridge 30 minutes before baking.
Preheat your oven to 350 and place covered French toast casserole in and bake for 30 minutes. Remove tin foil and bake for another 30 minutes until tops turn golden and center is set (no liquid).
Remove from oven and cool slightly before you sprinkle with powdered sugar.
Serve with maple syrup.
Notes
Top with fresh raspberries and the powdered sugar. You can also add more sliced peaches if you like after it's baked like we did. You can also use fresh peaches when in season in the French Toast Bake/Casserole itself.
Nutrition Information:
Yield:
9
Serving Size:
1
Amount Per Serving:
Calories:

479
Total Fat:

33g
Saturated Fat:

19g
Trans Fat:

1g
Unsaturated Fat:

11g
Cholesterol:

292mg
Sodium:

173mg
Carbohydrates:

36g
Fiber:

2g
Sugar:

33g
Protein:

11g
Please note that we can not guarantee the accuracy of the nutritional information. They are a best guess calculation.
It's not hard to make at all and it's so delicious it's practically a treat instead of breakfast or brunch!
Can French Toast Casserole be reheated?
Good news if it's a lot for you like it was for yes you can easily reheat this delicious baked French toast recipe, we certainly did. We had it for the next three days and we were not tired of it at all!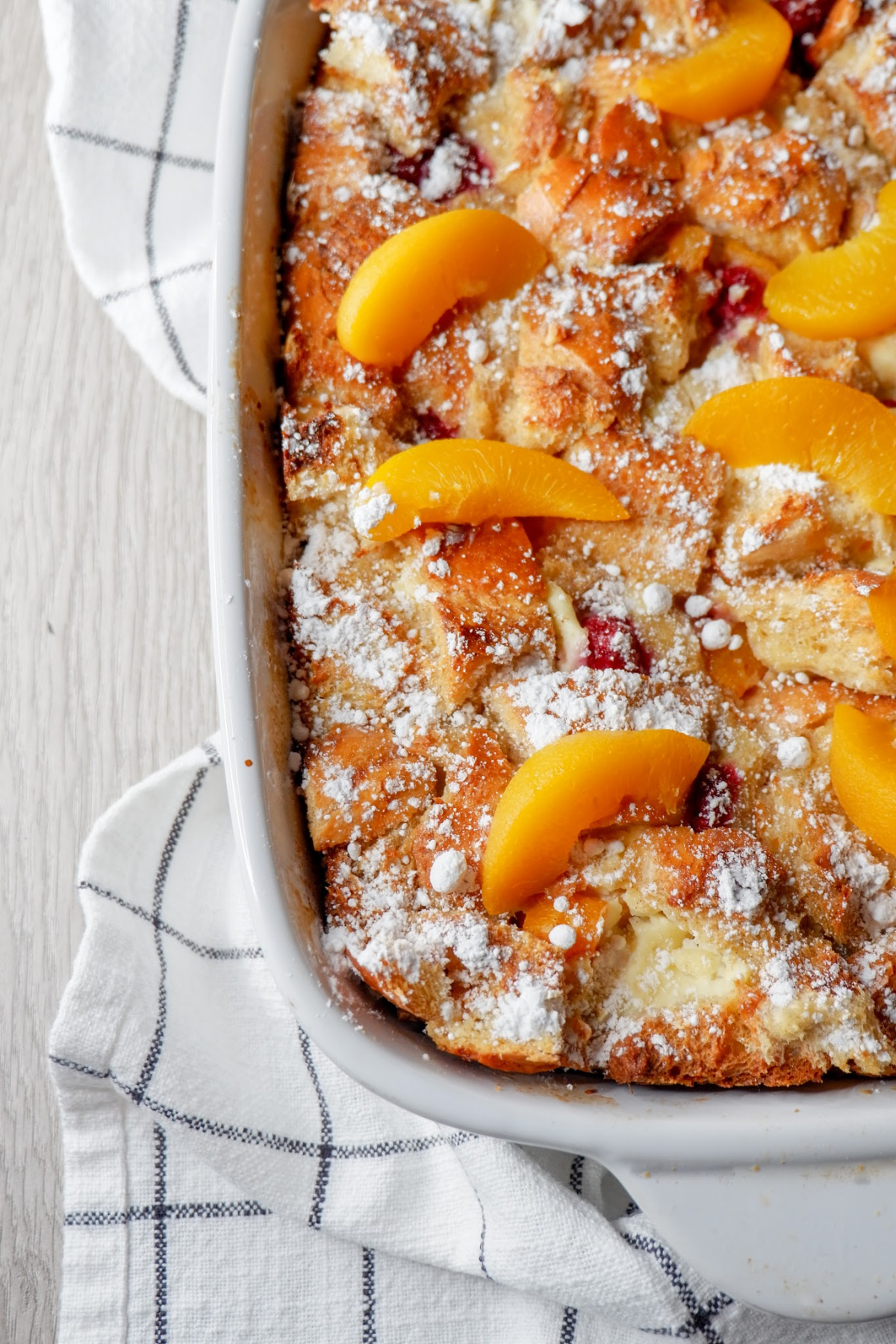 Can you freeze a French toast casserole
Yes, you can freeze this delicious French toast casserole but use an airtight container or you can use on the gentle setting a Foodsaver machine. It freezes quite well surprisingly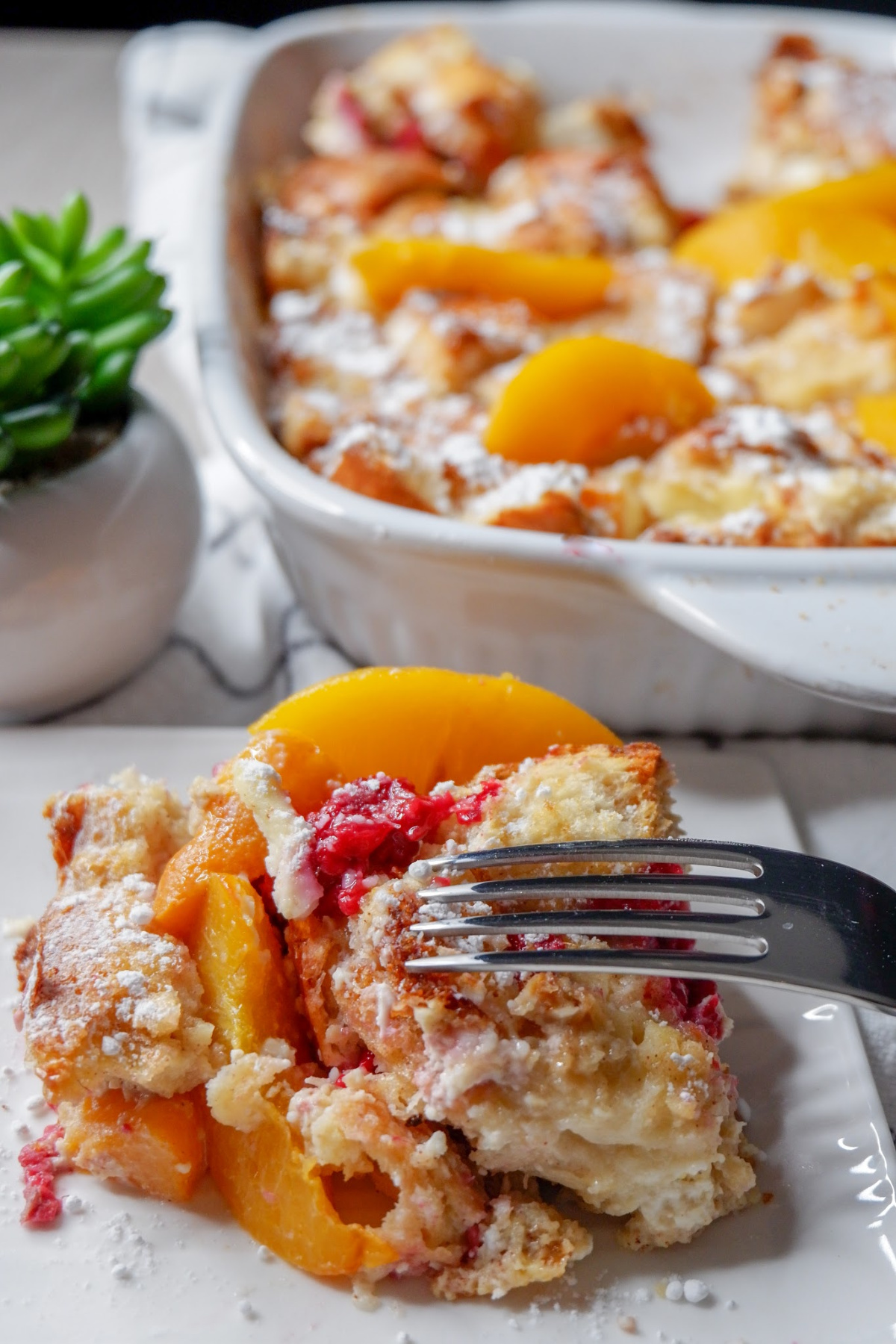 So who is ready to enjoy this delicious raspberry, peach and cream cheese baked French toast recipe? Make sure to PIN this for later. Let us know how you like it. We hope you enjoyed it as much as we did!
What toppings would you put on your baked French toast recipe?
Get these items for the recipe:



By